Courses – All Ceramics - Crowns, Bridges and Onlays Lecture and ADDITIONAL workshop Sunday 2 days in Total
---
Course: All Ceramics - Crowns, Bridges and Onlays Lecture and ADDITIONAL workshop Sunday 2 days in Total
Date: 22 July 2016 - 24 July 2016

Venue: The Rydges Hotel, 9 Glenelg Street South Brisbane
Presenters: Michael Mandikos
People registering for this course will thus attend on Friday 22nd (lecture) and Sunday 24th (workshop) and NOT on Saturday 23rd July. 
Day 1 Lecture content will cover all ceramic crowns (eMax and Zirconia) and conventional bridges (PFM and Zirconia) and Maryland bonded bridges (metal and all ceramic). Correct designs for crowns and bridges, when to use an attachement and cantilevers, the different techniques for ceramic and metal based bridges, Maryland Bonded Bridges that work and avioding those that dont and how to properlyt bond all these to teeth.
Registration 8:30am for 9am Lecture
Day 2 Workshop content : Onlays, preps, impressions, temporisation, fitting and cementation. Limited spaces available.
Registration 8:30am for a 9am workshop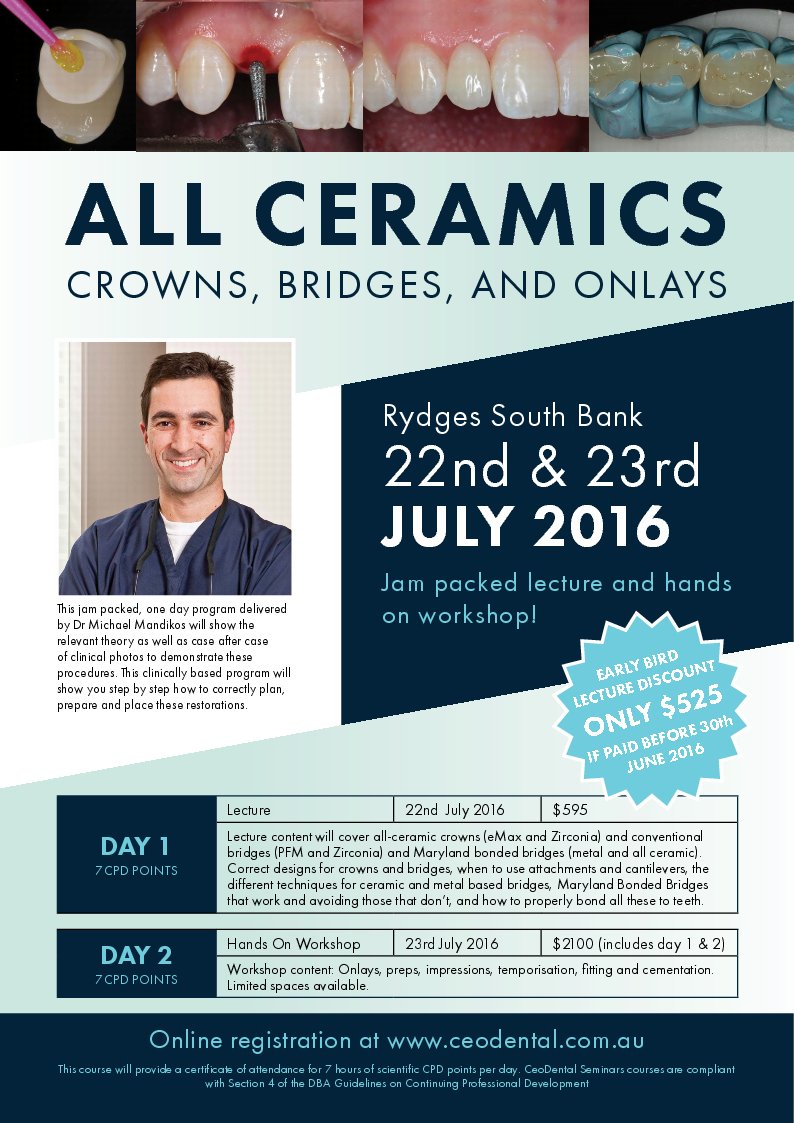 [Click to Download Brochure]