Courses – Perfect Porcelain Veneers 2016 - Full Course (Day 1 Lecture, Day 2 Workshop)
---
Course: Perfect Porcelain Veneers 2016 - Full Course (Day 1 Lecture, Day 2 Workshop)
Date: 4 March 2016 - 5 March 2016

Venue: Brisbane Convention Center
Presenters: Dr Michael Mandikos
Please register here if you wish to attend both Day 1 (Lecture) and Day 2 (Hands-on Workshop) of the Perfect Porcelain Veneers Course. Registering on this page will allow you to attend both days of the course - the lecture on Friday 4th March and the hands-on component on Saturday 5th March.

Early bird discount lasts until 19th February 2016!
Course Overview:
Veneers are the ultimate conservative and aesthetic restorations which can return strength, function and exceptional
aesthetics to the teeth.
This jam packed program presented by Dr Michael Mandikos will discuss porcelain veneers in detail. The focus will be on:
• The theory of how they work
• Which porcelain system to choose for each situation
• Preparations for incisors, premolars and molars
• Limitations (how dark is too dark to mask?)
• Temporisation
• Cementation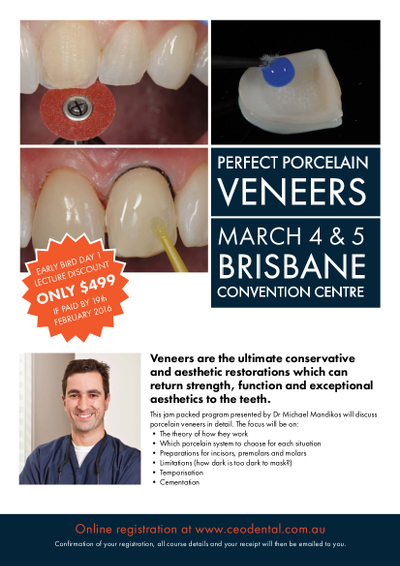 [Click to Download Brochure]