Courses – We're Bringing Gold Back 1 day lecture 1 day hands on
---
Course: We're Bringing Gold Back 1 day lecture 1 day hands on
Date: 13 September 2019 - 14 September 2019

Venue: Lecture location TBC, Hands on - CeoDental, Centre of Excellence, Woolloongabba
Presenters: Dr Randy Allan
Are gold restorations still The "Gold" Standard? Using gold as a restorative material has slowly fallen out of favour over the last number of years. This presentation will discuss some of the reasons for this occurrence and examine whether or not
those reasons are valid or misguided.
Only 2 positions remaining, register now!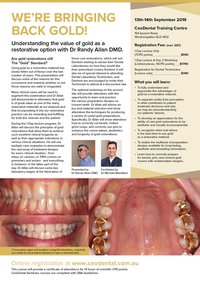 [Click to Download Brochure]